[ BACK TO AL HAZAN HOME PAGE ]

The Galaxies and "The Big Triangle" HEAR
Just months after returning from military duty, Capitol Records contacted Al to see if he knew any group that might be worth recording. Al said he did - that he had such a group already, along with some material.
Actually, Al had no group ready - he literally ran across the street where two female friends lived. He asked if they wanted to record some of his songs and the girls were all for it.
Al then went home to quickly write a new song. He had an idea to tell the story of a boy in love with two girls, but in the song they would each tell the story from their own point of view, their singing "tangled" together. He knew from his classical background this technique was called counterpoint, and as far as he knew it had never been done on a rock and roll record.
Al wrote "The Big Triangle" and made a demonstration record with the girls. They took the demo to the people at Capitol, who loved the idea and signed Al and the girls to a recording contract, naming the group "The Galaxies." Another Hazan composition, "Until the Next Time," HEAR was selected for the reverse of the record.
Like any good record label of its day, Capitol's publicity department quickly invented a fictional "history" for the group, based on the allegedly "biographical" lyrics of their first radio single. This story was printed in the Los Angeles Mirror:
While attending a party near his Wilshire district home, Al came away with a problem - one more girlfriend than he needed.

Al's solution was anything but ordinary. Al organized himself and the two girls, Judy and Patsy, into a singing group called The Galaxies and used the romantic mess as inspiration for the trio's first song "The Big Triangle".
* * * * *
Al tells the story of the Galaxies' first recording session, in his own words:
About 7 o'clock at night, just a few weeks after signing the contracts, we met at the Capitol Recording Studios on North Vine Street, Hollywood and recorded our first two songs. In those days, the major record companies - Capitol, R.C.A., Columbia, for example - had their own studios and Capitol's was one of the finest. Their facilities included three studios on the ground floor and we were in studio A, considered the best.
I remember feeling a little nervous when I arrived but acted outgoing and friendly with everyone to distract myself. This was now about six weeks after Capitol first called and asked if I knew a pop-style vocal group. I don't remember who the musicians were that night because Tom Morgan, the A&R man and producer for Capitol, hired them. I felt confident, however, that these were first class sidemen and so that was the least of my concerns.
Listening to the musicians rehearsing their parts, I noticed there wasn't much to the arrangements, which was fine with me. Neither of the two songs required much instrumentation and at least the chord changes were correct. Where there were parts of the arrangement I didn't care for, I wasn't shy about letting the musicians know what changes I wanted and nobody seemed to object.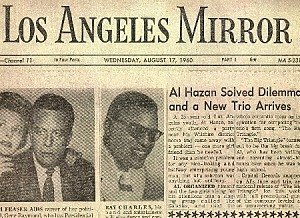 I remember having a sore throat that whole day. It seemed like every time I was scheduled to sing on a record session, I got a sore throat - was I cursed in some way? Mysteriously, however, the soreness would disappear as soon as the session began and the vocals would turn out fine. I told the girls about this phenomenon while the musicians rehearsed. Judy told me it was just nerves and the same thing happened to her.
It felt good knowing someone understood how I felt, that helped me calm down. I also asked Mr. Morgan if I could sit at the piano while I did my vocals because that was how I was used to singing and the way I felt the most comfortable. He seemed happy to accommodate me; he had the engineer come into the studio from the booth and set up a special microphone for my vocal. Now I was feeling great and getting anxious to record.
There I was, at a baby grand piano in the middle of Studio A, Capitol Records, with the band ready to play and the girls at their own mike. From my vantage point, I could see the girls, just a few feet away, and the people in the booth. Our first song was scheduled to be "The Big Triangle," which everyone figured we would spend the most time on. I took a deep breath and said a silent prayer. Then I heard the musicians begin their short introduction.
The girls and I had rehearsed our parts so well that our vocals were performed without a problem. Most of the time was taken up with technical problems such as microphone positioning and things in the control booth. Once those technicalities were straightened out, it only took about three takes before Mr. Morgan told us to take a break and to get ready for the second song.
Chatting with Pat and Judy, I mentioned I felt the recording session had been somewhat mechanical up to that point, when we got the call to come back to work. When we returned, as the girls and I practiced our parts and the musicians rehearsed the next song, we were starting to feel loose. It was beginning to occur to us we were really doing it - we were singing as a legitimate recording group on a major record label. We each glanced over at the others with knowing smiles that telegraphed our dreams of fame and fortune.
We were becoming giddy and laughing at the slightest thing when suddenly "Let's try a take" came over the speakers. The piano player began his slow four bar intro and then I began to sing the lead vocal. As I mentioned, "Until the Next Time" was not "Top 40" in style, which was good because we didn't want any confusion by DJs as to which side to promote. However, we thought this more sophisticated material would show we could also sing songs for the "grown ups."
In about an hour more, we finished the second side and the girls and I went into the booth to listen to the results. I lit up another cigarette (almost everyone smoked in those days) and kicked back on one of the chairs and waited for the playback. Tom Morgan seemed happy with the results as the girls and I listened closely to our vocals. Tom also gave me a reel-to-reel tape copy of the songs so I could listen at home. And then, although the session took only about three hours, we hung around re-listening to the songs and talking for an extra hour. Finally, around 11 o'clock, we said goodnight and left for home.
The girls and I didn't socialize much. For one thing, Judy's boyfriend was insecure and jealous about all the time we spent together learning and rehearsing our songs. He always waited outside my house after our rehearsals to take her home or back to his place, just as he was doing on this night at Capitol. I don't remember if Pat had a boyfriend or not.
I had no romantic attraction for either of them; besides, Judy and Pat were important business to me and I didn't want any complications like getting involved intimately. This was a major career chance and I would never do anything foolish to jeopardize the situation.
The session had gone well and everyone was happy with the results of the evening's efforts, so we all just went our separate ways home after the session.
* * * * *
"Trouble on a Double Date" HEAR
"The Big Triangle" did well enough on the charts to warrant a follow-up record. Al and the girls returned in November, 1960 to Capitol Records' Studio A, with Tom Morgan, Al's producer, to record four more songs (three of them written by Hazan), although only two were released. This time, the A-side, "Trouble on a Double Date," was autobiographical, written by Al after an actual double date gone awry, and was backed by the strong rock ballad, "Over and Done With." HEAR The Al Hazan composition, "Zoom Golly Golly," and the song "Cinderella Blue" were not released.
Because of a conflict with another singing group, Capitol changed the name of the group from "The Galaxies" to "The Royal Galaxies, featuring Al Hazan." The group continued appearing in various cities around the U.S., doing TV interviews and special concert appearances to promote their two records.