[ BACK TO AL HAZAN HOME PAGE ]

Al Hazan in the Army HEAR
At this point in his career, when almost every song he wrote was recorded, imagine Al's shock when he received his draft notice from the Government. After 8 weeks of Army basic training at Fort Ord, California, and another 8 weeks at Fort Dix, New Jersey, Al was shipped down to the jungles of Panama at Fort Amador, Canal Zone.
"It really was a beautiful place, but the humidity was beyond belief. My barracks was at the Pacific entrance to the Panama Canal; I would walk late at night when I couldn't sleep, thinking about home and watching the ships as they sailed in from the States."
Al's reputation as a singer preceded him, so he was frequently asked to entertain at Army Hospitals and USO shows. He didn't sing many of his original songs, offering up instead a stew of Calypso favorites such as "Kingston Town", and "Back to Back, Belly to Belly". He also sang many old Spanish favorites such as "La Paloma" and "Jalisco" as well as some current Rock hits like "All Shook Up" and "Whole Lotta Shakin' Goin' On".
Primarily known as a rock and roll singer/songwriter, Al surprised his fellow Army buddyies and the local teenage fans by entering and winning the "BEST CLASSICAL MUSICAL INSTRUMENTAL" contest. He played the well-known semi-classical piano piece "Malaguena," written by Ernesto Lucuano. After his discharge from the Army, Al wrote and recorded a rock arrangement of the same composition for Phil Spector's Philles label, which ended up being played a number of times on Dick Clark's "Television Dance Party."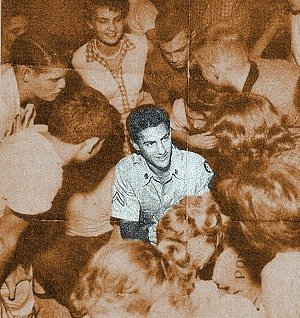 "The fans were great down there. Both teenagers and Panamanians came to the shows and were all either officers' daughters or civilians and were starved for stateside entertainment. We had other talented entertainers at Fort Amador, but no one else had made any records so I guess I seemed like a star to them. I also enjoyed acting as Master of Ceremonies for the shows, which was something I had never done before.
"I didn't get a chance to write many songs while in the Army. I did write one rocker called "Panamama Mama" but unfortunately I never wrote it down so I can't remember any of it. I also wrote a jazz tune titled "Later With Love" HEAR which was recorded by Tony Caro on Crystalette Records a year later."
Unfortunately, Al's Army life wasn't all singing and playing guitar in the jungles of Panama. Every enlisted man was a soldier first, whether you were a cook, a typist, or an entertainer. Everyone had their turn at guard duty, "white glove" inspections, and marching before breakfast. Everyone had a rifle, battle fatigues, and helmets, brought out for special drills.
The 18 months Al spent at the Canal Zone seemed like a lifetime to him. "I remember having a cup of coffee in the commissary one night and asking a buddy of mine how long we'd been there. 'Three months' he replied. My heart sank and I groaned, 'We'll never make it'."
Some of the hit songs Al recalls hearing at the time were "Wake Up Little Suzy" by the Everly Brothers, "Wonderful, Wonderful", by Johnny Mathis, "To Know Him is to Love Him" by the Teddy Bears and, of course, "La Bamba" by Ritchie Valens. "Whenever I hear those records today, they still remind me of those long humid months in Panama, which I remember with mixed feelings."
On the bright side, Al had his new 1958 Buick shipped down from Los Angeles for $250.00 after those first few months. This gave him more freedom and allowed him to spend romantic weekends in Panama City with his girlfriend, Cecelia, who had her own apartment.
On occasion, when Al couldn't leave because he had night guard duty, Cee Cee (as she was called) would take the bus to Fort Amador and help him pass the time under the starry Panamanian sky. They took the Buick for weekend trips to far-off beaches that usually wound up being small strips of sand beside shark-infested waters.
Having a Panamanian girlfriend and entertaining the troops was a big plus, helping Al pass the monotony of Army life. However, as he recalls: "Leaving Cecilia when my tour of duty was up was difficult. but we both knew it had to end. We kept in touch by mail for a few years until she married in 1963.
After what seemed an eternity away from his friends and family, Al returned home to the U.S. as a corporal and resumed his music career. "Being in the Army and entertaining the troops was a great experience, but I wouldn't want to have to do it again."